Jual ATAGO 2491, Jual Refractometer ATAGO 2491, Spek & Harga Refractometer ATAGO 2491, Jual Refractometer ATAGO 2491Salinity Refractometer (Automatic Temperature Compensation & Water Resistant) MASTER-S/Millα
Salinity Refractometer (Automatic Temperature Compensation & Water Resistant) MASTER-S/Millα
This instrument measures the salinity and specific gravity of seawater, and utilizes a new material that is durable against salty samples, The salinity of seawater is displayed in parts per mill (‰). It is an Automatic Temperature Compensation (ATC) model with water resistant properties (IP65).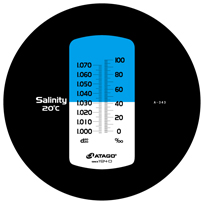 Specifications
Model MASTER-S/Millα
Cat.No. 2491
Scale Salinity
Specific gravity
Measurement Range Salinity : 0 to 100‰
Specific gravity : 1.000 to 1.070
(Automatic Temperature Compensation)
Minimum Scale Salinity : 1‰
Specific gravity : 0.001
Measurement Accuracy Salinity : ±2‰
Specific gravity : ±0.001
(10 to 30゚C)
Repeatability Salinity : ±1‰
Specific gravity : ±0.0005
International Protection Class IP65 (except eye piece)
Dust-tight and Protected against water jets.
Dimensions & Weight 3.2 x 3.4 x 20.7cm, 110g
Related product you might see: